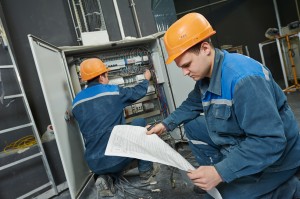 Have you ever wondered how a power surge can cause damage? Or where power surges come from? Or how you can protect your property from power surges?
Is your yard poorly lit during the night? Do you wish that you had better outdoor lighting for the safety of your family, or maybe so you could utilize your outdoor areas for evening get-togethers with family and friends?
Have you ever wondered why bathroom outlets are different from the outlets in your living room? Have you ever noticed the button on the outlet? Have you ever needed to push that button to get power back to the outlet?
Need an outlet added or replaced? Or do you need to upgrade old electrical outlets?
Do your circuit breakers keep tripping or your fuses keep blowing?
Does your circuit breaker blow when you switch on your oven or air conditioner? Do you have enough dedicated circuits for your electrical needs? Do you even know how many electrical circuits are in your house?
Our technicians have many years of experience and they arrive ready to work. They can resolve your electrical outlet issues, from updating fixtures in your bathroom or kitchen remodeling to any of the questions above. Give us a call today!